PT Proves That Many Classroom Tasks Take Less Time with a Chromebook Powered by an Intel Core i3 Processor Than with a Chromebook with an Arm Rockchip Processor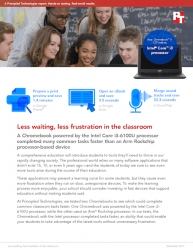 Durham, NC, January 02, 2018 –(PR.com)– Applications may present a learning curve for some students, but they cause even more frustration when they run on slow, unresponsive devices. In hands-on tests, Principled Technologies (PT) found that they could carry out common classroom tasks faster on a faster Intel Core i3-6100U processor-based Chromebook than on an Arm processor-based one. For example, PT merged tracks in Soundtrap 32 seconds faster with the Intel Core i3 processor-powered Chromebook than they could with the Arm Rockchip processor-based Chromebook. This kind of savings could allow students to devote more time to projects and stay engaged and on task for longer.
To learn more about how a Chromebook powered by an Intel Core i3 processor could benefit students and teachers, see the report at http://facts.pt/bXKMnH.
About Principled Technologies, Inc.
Principled Technologies, Inc. is the leading provider of technology marketing and learning & development services.
Principled Technologies, Inc. is located in Durham, North Carolina, USA. For more information, please visit PrincipledTechnologies.com.
Contact Information:
Principled Technologies, Inc.
Chloe Rockow Madesen
(919) 941-9812
Contact via Email
http://www.principledtechnologies.com/
Read the full story here: https://www.pr.com/press-release/735070
Press Release Distributed by PR.com